About Us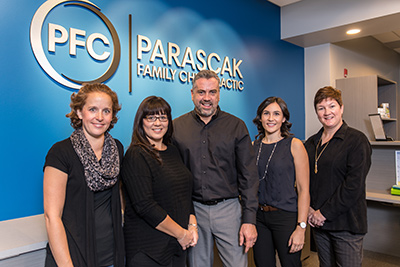 Since 2000, Dr. Brad Parascak and the team at Parascak Family Chiropractic have been helping families in Lethbridge and surrounding communities attain better health.
Our Mission
We love what we do. Each day, we come to work with one important mission in mind. We want to educate and assist as many families as possible in achieving health naturally through chiropractic care.
Everyone should enjoy optimal health.
Infants, pregnant women, weekend warriors and athletes all experience daily stress on their bodies. This stress interferes with proper functioning of the nervous system, causing pain and other unwanted symptoms. Chiropractic adjustments remove nervous system interference and allow your body to heal itself, the way it was intended.
The Power of Chiropractic
Chiropractic helps athletes feel strong and stable and improves performance. It can help an expectant mother cope with changes to her body during pregnancy.
Dr. Brad finds great fulfillment in knowing that his patients trust his mind, heart and hands to help them become better, healthier people through chiropractic. It means a lot to him that patients have confidence in him, respect him and want his help.
Service to Others
Our office is proud to support many charities in the local Lethbridge community and globally. We strive to offer support to our community and volunteer as a team to assist those who need our help throughout the year.
The charities closest to our hearts are The Gord Laurie Foundation and Chiropractors with Compassion. Click their logos below to learn more.


Please take a few minutes to browse our site and get to know us better. Then give us a call to schedule your consultation. We look forward to meeting you!
---
About Parascak Family Chiropractic | (403) 394-9276